FTT 32K Flash 32K SRAM Generic Control Module
| | | | | | | |
| --- | --- | --- | --- | --- | --- | --- |
| Model: 52004 | ☺ | TP/FT-10 | ☺ | Flash | ☺ | SRAM |
Features
On-board Neuron FT3150 Smart Transceiver, 32Kbyte Flash and 32Kbyte SRAM

Differential Manchester encoded signaling for polarity-insensitive network wiring

Transformer-isolation

78 kilobits per second

Distances up to 500 meters worst case in free topology

Local event processing

Common form factor makes control modules interchangeable

Low power consumption

Compact Design
Overview
FTT Generic Control Module (52004) is a cost effective way to add LonWorks communication to your embedded design. It may be used as standalone board or with host MCU and ShortStack firmware.
The small size of the control module permits it to be mounted on or inside an OEM's product, directly adjacent to the sensors, outputs, or displays that the module will control.
Using this control module can save hundreds of hours of development time compared with designing custom modules. The control modules can be integrated into a product with minimal additional safety testing.
Specification
Microprocessor

Neuron FT3150

Transceiver Type

FT-X1 (FTT-10A)

Transceiver Bit Rate

78kbps

Crystal Oscillator Clock

10MHz

Memory

32 KB Flash

Extended RAM

32KB SRAM

Data Communication Type

Transformer-isolated twisted pair

Isolation Between Network and I/O Connectors

0-60Hz ( 60 seconds ): 1000VRMS

0-60Hz ( continuous ): 277VRMS

Typical Supply Current

25mA receive, 40mA transmit

Maximum Nodes Per Channel

64 (-40 to + 85DegC)

Network Wiring

22 to 16AWG twisted pair

Network Length in Free Topology

<1000m maximum total wire with one repeater

<500m maximum total wire with no repeaters

<500m maximum node-node distance with no repeater

Network Length in Doubly-Terminated Bus Topology

up to 2700m worst case

Maximum Stub Length in Doubly-Terminated Bus Topology

3m

Network Bus Polarity

Polarity insensitive

Power-down Bus Protection

High impedance when unpowered

Supply Voltage

5V+/-5%

I/O Connector

2*9 on 2.54mm centers

Network Connector

One terminator in free topology, two terminators in doubly-terminated bus topology

Operating Temperature

-40 to +85 DegC

Non-operating Temperature

-40 to +85 DegC

Operating Humidity

25-90% RH @ 50 DegC, non-condensing

Non-operating Humidity

95% RH @ 50 DegC, non-condensing

Dimensions

L61mm x W41mm x H15mm
Configuration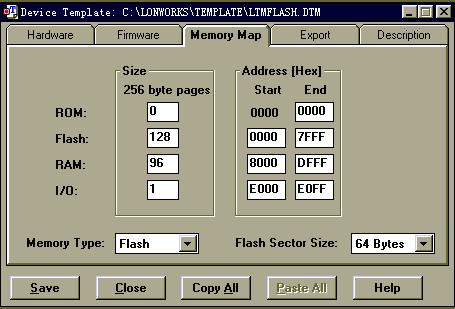 18-Pin I/O (P1)

6-Pin Network (P2)

| | |
| --- | --- |
| Function | Pin |
| N/C | 1 |
| IO0 | 2 |
| GND | 3 |
| IO1 | 4 |
| GND | 5 |
| IO2 | 6 |
| GND | 7 |
| IO3 | 8 |
| ~RESET | 9 |
| IO4 | 10 |
| IO5 | 11 |
| +5V | 12 |
| IO6 | 13 |
| IO9 | 14 |
| IO7 | 15 |
| IO10 | 16 |
| IO8 | 17 |
| ~SERVICE | 18 |

| | |
| --- | --- |
| Function | Pin |
| N/C | 1,2,5,6 |
| DATAB | 3 |
| DATAA | 4 |
Values Added
| | |
| --- | --- |
|   | Highlights |
| Neuron Chip | FT3150 Smart Transceiver Integrated |
| Transceiver | FT-X1, Interference Free |
| FLASH | 32K, Delivered with Control Modules |
| Firmware Program Service | Program specific firmware version on request, Save Your Time and Cost |
| SRAM | 32K, Faster Execution Speed |
| PCB | 4 Layers PCB board, Anti Interference Capability Improved |
| Dimension | Shorter header, Compact |
| Certification | CE |
| MTBF | 520K Hours, Proved Reliability |
Price
| | | |
| --- | --- | --- |
| Order Code | Description | Unit Price (Euro) |
| 52004 Hot! | FTT 32K Flash 32K SRAM Generic Control Module | 37.90 |
| 52991 (or 55020R-01) | FTT Control Module | Contact Us |
Other Related Products
FTT Flash Control Module 52114