LonWorks Programmable Serial Gateway
| | | | | | | | | |
| --- | --- | --- | --- | --- | --- | --- | --- | --- |
| Model: 32022 | ☺ | RS232 | ☺ | RS485 | ☺ | TP/FT-10 | ☺ | 24VDC |
Features
Connects EIA232 or EIA485 devices to LonWorks Network

UART 16550 includes FIFO

Support 8 kinds of communication rate, 1200 to 115200 bps

DIN-rail mounting
Overview
The programmable serial gateway enables any equipment with an EIA232 or EIA485 serial interface -half or full duplex- to connect to a LonWorks network, extending LonWorks compatibility to proprietary asynchronous serial protocols.
Custom software can be downloaded into flash EPROM. The programmable serial gateway is shipped with Neuron firmware in flash memory, including a serial test program with source code provided as a starting point for the users. Custom programming services are also available. The unit is fitted with 32k SRAM (26k accessible) that may be used as system RAM or applications requiring buffering of larger amounts of data.
Application that have utilized the programmable serial gateway include serial Modbus to LonWorks, with Modbus registers mapped (and data converted) to LonMark Standard Network variable types. Applications include translation of proprietary protocols used in HAVC equipment and environment monitor equipment in building automation.

Specification
LonWorks

Transceiver Type

FTT-10A

Topology

Bus or Free, Single-ended or Double-ended

Data Communication Type

Transformer-isolated Twisted Pair

Network Wiring

22 to 16AWG Twisted Pair

Firmware

13

Network Variables

62 (Input & Output)

Control

Service Pin

Serial

Transceiver Type

EIA-232, EIA-485

Baud Rate

115200, 57600, 38400, 19200, 9600, 4800, 2400, 1200bps

Multi-drop

128 nodes (EIA-485)

Connector Type

Female DB9

Electric

Supply Voltage

24VDC (18-32VDC)

Power Consumption

<2W

Environmental

Operating Temperature

0 to +70 DegC

Non-operating Temperature

-40 to +85 DegC

Operating Humidity

10-90% RH @ 50 DegC, non-condensing

Non-operating Humidity

95% RH @ 50 DegC, non-condensing

Physical

Dimensions

L100mm x W22.5mm x H112mm

Weight

Approx. 200g

Protection

IP20

Installation

DIN-rail Mounting

Others

Indicators

Power Supply

Red

Service

Green

Certification

CE, RoHS
Configuration
| | | |
| --- | --- | --- |
| Name | Function | Default |
| AUTOBAUD | automatic serial bit rate detect enable input | Enable |
| BAUD0 | Serial bit rate 0 (LSB) | |
| BAUD1 | Serial bit rate 1 | |
| BAUD2 | Serial bit rate 2 (MSB) | |
| CFG0 | EIA-232 interface option (1= 8 wires, 0=3 wires) | 3 wires |
| CFG1 | Network disable (1=disable after reset) | Enable |
| CFG2 | Modem support (1=remote host, 0=Local host) | Local host |
| CFG3 | Interface link protocol (1=buffered, 0=ALERT/ACK) | ALERT/ACK |

Selection of EIA-232 or EIA-485 is achieved via installed jumpers. The board is shipped with all jumpers installed according to your order.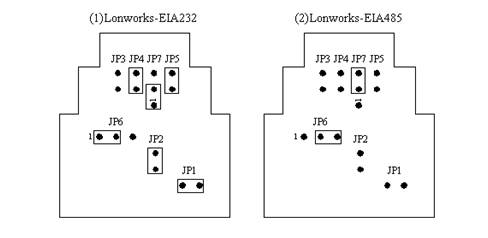 Toolkits
Program Reference: PSG-20 & PSG/3 Developer Source Code
Success Cases
| | | | | |
| --- | --- | --- | --- | --- |
| MGE UPS | Siemens UPS | Stulz HVAC | Raychem Leak Detector |   |
Order Information
| | | |
| --- | --- | --- |
| Order Code | Description | Unit Price (Euro) |
| 32022-A | LonWorks FT/TP-10 to EIA-232 Programmable Gateway | 178.00 |
| 32022-B | LonWorks FT/TP-10 to EIA-485 Programmable Gateway | 178.00 |
Customization
LON Serial Device Controller

Model: 32091L

Features:

Serial UART (MAX3100) interface - EIA232 or EIA485

Two discrete inputs for sensor or alarm signal

220Vac power supply

Success Stories: